HUFFY'S AIRPORT WINDSOCKS
Huffy's Airport Windsocks manufactures and provides a custom-made line of airport windsocks, custom-printed windsock, and windsock frames. Select your options from any of our specially designed nylon urethane-coated windsocks and powder-coated steel brackets. Build your own windsock with the ability to customize each product in order to best suit your individual needs.
AIRPORT QUALITY CRAFTSMANSHIP
Huffy's Airport Windsocks has been manufacturing
airport windsocks
and
windsock frames
 for nearly 30 years. Huffy's Windsocks are manufactured using a high quality 420 denier nylon with urethane coating to ensure a long service life. Our seams are triple sewn to reduce tearing and stretching at the windsocks most vulnerable spot. Huffy's windsocks can be found everywhere from airports to hospitals to military installations and meet all FAA requirements for windsocks. Huffy is also proud to provide printed designs, the windsocks still have the same high quality and craftsmanship you expect custom printed at your request.
Huffy's Airport Windsocks is proud to offer two great styles for windsocks; our Airport Quality Windsocks and our Custom Printed Windsocks. Both are available in a wide array of standard sizes or we can custom-make a windsock for you in any size you require. We are excited to share the new Huffy Internal Lit Bracket! In powder-coated orange, these currently come in 36 and 18-inch diameters. 
Call for pricing! 1-402-589-1224.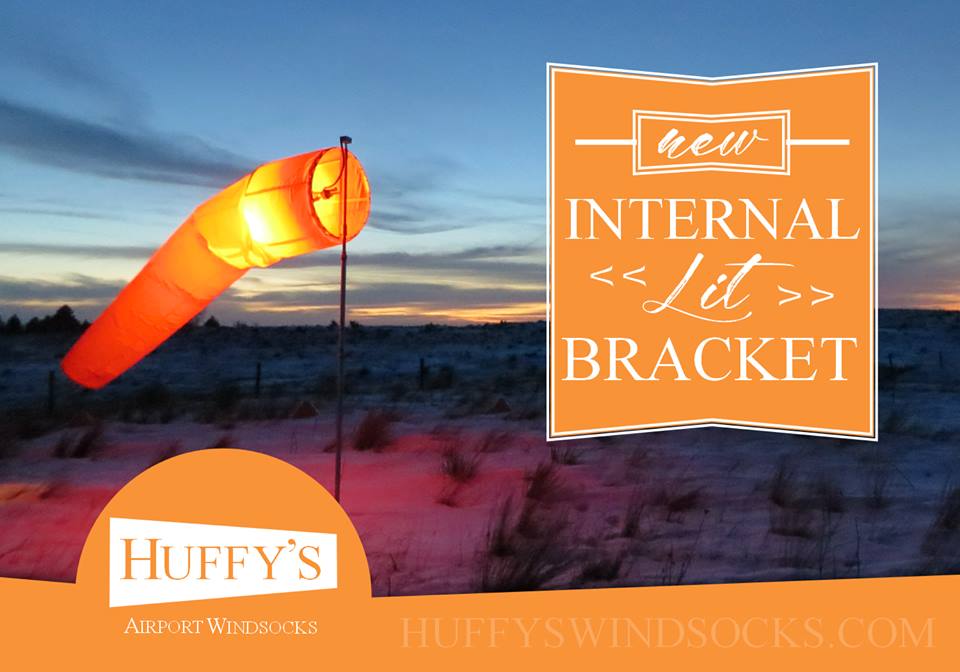 Call any time and leave a message. We'll get back to you!
For more information or a price quote, Email:
sales@huffyswindsocks.com
. Our normal office hours are 9 AM to 5 PM Central Time 420 Denier Nylon with Urethane Coating Heavy Duty Brass Grommets Banding on Both Ends for Maximum Life Seams are Triple Sewn Call for Price Quotes on Volume & Printing